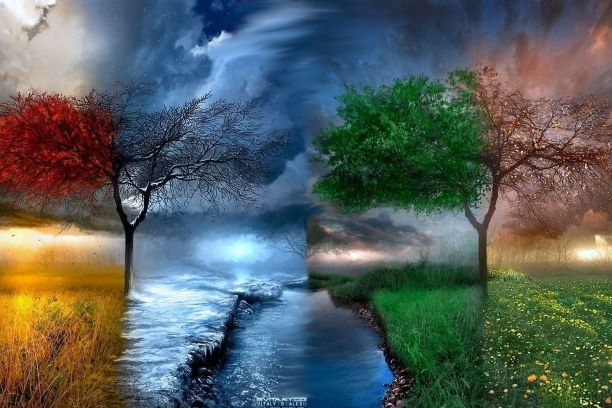 Years ago, I read The Four Seasons of Marriage by Gary Chapman. In the book, Chapman explains how couples experience emotional seasons similar to the weather. To illustrate, the synopsis of the book describes these marital seasons as: "winter--discouraged, detached, and dissatisfied; other times, [couples] experience springtime--with its openness, hope, and anticipation. [Next, they] bask in the warmth of summer--comfortable, relaxed, enjoying life. And then comes fall--[full] of uncertainty, negligence, and apprehension" (1). Being married for almost 30 years (This May 2021, I will celebrate 30 years with Paul, my storm-chasing partner😊) I can definitely say this book is not just a theory, it is a reality. Couples will go through these climate phases; yet, when they weather the "storms of life" and stay committed, they will emerge stronger and experience a deeper more fulfilling love.
Even though Chapman's book was geared towards marital relations, it occurred to me that this concept can apply to other areas of our lives too. In general, a person can go through similar seasons at work, church, or even with family and friends. For example, when a person is first hired, the excitement of the new job is springtime while the day-to-day work-related stresses will seem like the dead of winter and generate employee dissatisfaction. Furthermore, one's connection to his/her church can create a summertime forecast of calm, stability, warmth, and acceptance, and then, unexpected congregational issues can shift to more of a fall forecast that is full of dropped leaves stained with doubt and concern.
Next month, in March, will mark a full year of Covid-19 adjustments. Even though the calendar's seasons have rotated from winter, spring, summer, fall, and now back to winter, the emotional climate of Covid for many has stalled somewhere in between fall and winter. Fear and uncertainty are wrapped around the number of cases while lockdowns, 6 feet of separation, and masks leave our spirits detached, discouraged, and isolated. When will it be springtime? When will it be summer? Answer:
Springtime is remembering our hope is in Him.
"We remember before our God and Father your work produced by faith, your labor prompted by love, and your endurance inspired by hope in our Lord Jesus Christ" 1 Thessalonians 1:3.
Summertime is focusing on Him instead of our circumstances.
"For those who live according to the flesh set their minds on the things of the flesh, but those who live according to the Spirit set their minds on the things of the Spirit" Romans 8:5.
Regardless of when or if "normal" pre-Covid life returns, as a believer, you can be confident that there is a Reason for this Season. God always has an eternal purpose; thus, every day is springtime and summer when we choose to feel the warmth of the Son as we seek His face in prayer. Plus, our joy is found in knowing He is always in control of ALL our circumstances-including Covid-19.
1. The Four Seasons of Marriage - Which Season of Mar | Cokesbury by Gary Chapman