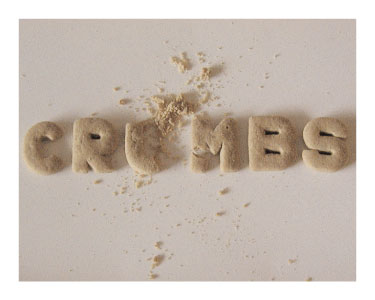 I was reading my Bible the other morning when a certain passage in scripture caused me to pause and think. When this happens, I take my pen and underline the words in the sentence. It amazes me how God and His goodness with such perfect timing can still reveal encouraging words that I had not previously noticed. Anyways, as I was pressing my pen under the letters, my smooth line was suddenly interrupted by "something". Now, some people may be able to ignore this crooked line; however, with a tad bit of OCD tendencies, I had to fix the uneven blue line.
Taking my pointer finger, I rubbed along the line and could not feel any bump. Hmm? So, I flipped the page over and to my surprise – nothing was there. Again, I flipped the page back and tried to feel for anything that might be the cause of my predicament. Thinking my eyes may be in better shape than the nerve ending in my fingers, I moved my face even closer to the book giving a new meaning to "having one's nose in a book"! 😊
Without any evidence, I concluded "it" must be gone. Thus, I used the pen to retrace the first line and it went astray in the same spot. What on earth? So, in my human wisdom (lol-I should have asked God right away to help me find the culprit), I flipped the page again. Still, nothing was on the page that I was underlining or on the next page. Then, a "light bulb" went off in my head - the Holy Spirit who is the "Light" living inside of me took pity on me as He whispered, "Check the next page too". Since my Bible's pages are pretty thin, two pages over, there was a tiny morsel of a crumb (Note to self: I may want to stop eating and studying God's word at the same time).
Hallelujah, I wiped the crumb away and fixed my "inked" underlined mess. Whew! Now, I can get back to studying His word. Not so fast! That is when the Holy Spirit decided this could be a teachable moment for me, and one that I can share with all of you.
To explain, the crumb represents sin. We often think of sin as being a big mistake or some type of criminal activity; yet sin is anything that separates us from our Creator. It often creeps up on us like this little crumb – hiding between the pages of our lives. We do not even worry or notice it until a line is drawn that brings attention to our sin like a fluorescent highlighter. That is when the bumps begin.
With the Holy Spirit's help, we can prevent these "bumps" by cleaning the pages of our lives daily. For instance, I ordered an item online. Because the item had not arrived, I had my credit card company stop the payment to the company. To my surprise, 4 months later the item arrived. At first, I just considered doing nothing because the company was not forthright in communicating. So, I felt, "why bother"? There it was - my crumb, hidden in the page of my "whatever" attitude. My ethical lines were now crooked, and I had to make it right. Therefore, I sent an email to the company explaining the recent arrival of the item, and how I would like to pay for it.
Unfortunately, their communication skills were still lacking because they emailed me back and told me to check my mailbox for the package. Although it is still not resolved, at least I know I made an effort to brush the crumb off of me.
Ultimately, Christ died for our sins, and although this is a free gift, a believer still has a responsibility to obey God's Word. Therefore, pray daily for clarity and choose to keep the crumbs from creating bumps in your life.
Job 11:14-15 "If sin is in your hand, put it far away [from you], And do not let wrongdoing dwell in your tents; Then, indeed, you could lift up your face [to Him] without moral defect, And you would be firmly established and secure and not fear".